Perhaps it's because I own a
scrapbooking
and papercraft store. Perhaps it is the
artist
within. Perhaps it's sheer boredom as I suffer this long period of employment drought. But whatever it is, I've decided to learn more about papercrafts and especially something called
quilling
or
paper filigree
.
I'm not quite sure why I find fascination in such things. I am a computer
geek
,
programmer
,
software developer
, etc. It must go back to my childhood and my fascination with creating arts and crafts. As a budding artist my bud was snipped from the tree of art, and I never did pursue it. But I love color. I love how to mix it to create new colors, how to place complimentary colors together, how to match and blend and create things with color.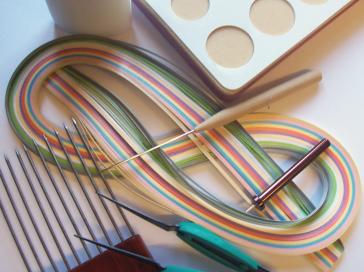 The tools and the techniques of quilling are deceptively simple. I say deceptively because although it appears at first that you are simply rolling paper around a slotted rod, forming the rolled paper into one of a few basic shapes, and gluing the pieces together, the actual act of doing this--the experience itself--requires you to learn and understand a number of small steps that can be more complex than it initially appears.
More than simply technique, you need to posess the kind of imagination that such a craft (
art form
, really) demands. Certainly you can purchase one of millions of quilling kits and any number of quilling books, follow the simple instructions and make something that someone else had designed. But if you really want to quill, you ought to dive right in. I personally hate having someone tell me how to do something which is why whenever I get into something new, I do a little reading and dive in, making mistakes along the way until I get the results I want. Of course this could also be the reason why I don't stick with anything for very long.
Anyway... back to quilling.